Pharmacological validation with baclofen presented at the annual conference of the Safety Pharmacology Society.
A feasibility study was conducted in 2020 by the Safety-Pharmacology team of Charles River Laboratories in Lyon, in group-housed rats in environmental/husbandry conditions similar to those employed in 4-weeks regulatory study. The objectives of the study were: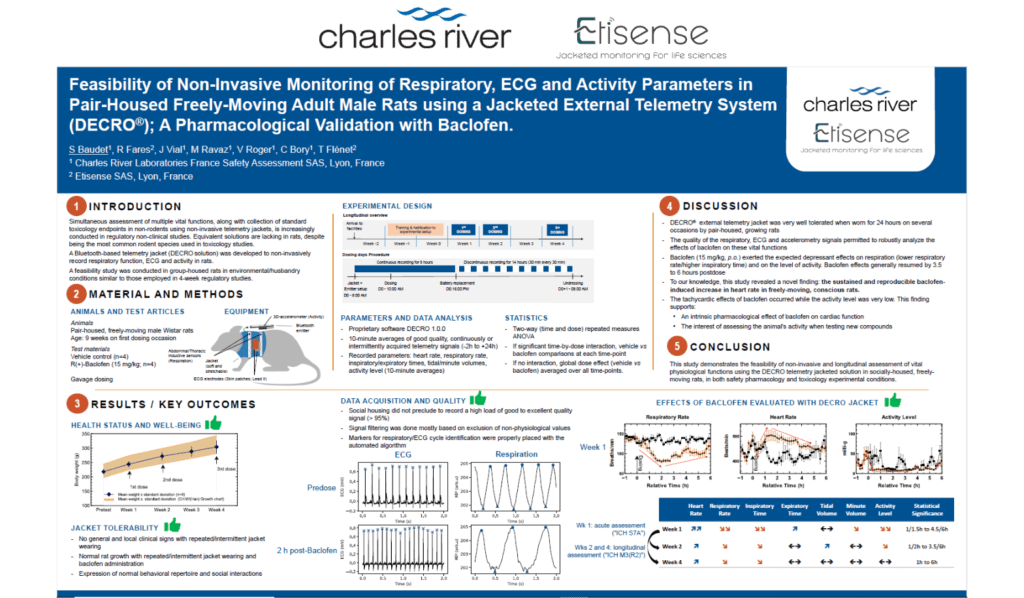 Evaluate the capabilities of DECRO solution to detect pharmacological effects of a reference compound (baclofen) administered to rats equipped with the connected jacket and monitored over 24h.
Evaluate the capabilities of the solution to be used in a standard 4 weeks toxicology study with repeated administrations.
Validate the tolerability and the robustness of the connected jacket on animals housed in pairs.
Biosignals evaluated through ETISENSE proprietary software were: cardiac signal with an external ECG, respiratory signal through RIP bands and activity index thanks to a 3D-accelerometer included in the emitter.
Results presented at the conference show how the jackets were well tolerated (no effect on animal weight, minimal damages on jackets) and that the physiological parameters found were in line with the expected ones: depressant effect found on respiration (lower respiratory rate /higher inspiration time) and on activity level, combined with an increase in heart rate (reproductible over the 4 weeks).