The DECRO solution for cardiorespiratory monitoring by connected jackets has today demonstrated its relevance and interest in the first species addressed: the rat.
Since 2020, the jacketed telemetry solution is being used in rats for various studies requiring monitoring of cardiorespiratory function and locomotor activity level. Thanks to the solution, researchers have access to a combination of physiological and behavioural parameters in small animals with a single system, in a simple, rapid and non-invasive way.
The miniaturized embedded electronics, which embeds a very low energy Bluetooth protocol, allows a perfect transmission of signals, even when several animals are equipped and studied in a common housing cage.
Signal processing and physiological parameter analysis algorithms have been tested in studies that either compared the solution to reference techniques (Flénet et al. 2019) or compared the pharmacological results obtained with reference data (Clavier et al. 2021; Fares et al. 2022; Scorrano et al. 2022), with good results.
The solution currently provides the following parameters:
Cardiac

Respiratory

Activity

ECG 1 LEAD Surface patches

R peaks detection
R-R intervals (mS)
Heart Rate (bpm)
PQRST delineation
QT, ST, PR Interval's (ms)

Inductive Plethysmography Bands

Respiratory Cycle Time (ms)
Respiratory rate (bpm)
Tidal volume (Ua or mL)
Inspiratory – Expiratory time (sec)
Minute Volume (Ua/min or mL/min)

3D accelerometer

Activity index (Normalized 3D
acceleration in mG)
Compatible with neurobehavioral
observational battery test (data
not yet published)
A solution built as a platform that can easily expand to other species
Behind the idea of a platform, there is the pooling of hardware and software whatever the species, provided that the jackets are adapted to new species and that the suitability of algorithms is tested.
It is therefore quite natural that Etisense allocated R&D efforts in 2022 to expand its offer towards new species.
Thanks to internal prototyping of jackets, followed by iterative tests on the new target species, we are now able to propose the DECRO solution for 2 new species: guinea pigs and minipigs, Göttingen minipigs or Yucatan minipigs, from juvenile to adult.
These two species are at the heart of the research and development of new pharmaceutical compounds: guinea pig as a model of QT segment extension possibly induced by certain compounds and in which implant installation is very complicated; Minipig as an alternative model to PNH in preclinical safety pharmacology studies, today mainly in small molecule tests, and tomorrow, probably also for biological compounds.
DECRO Solution for guinea pig:
A jacket, inspired by the rat model, was developed in 2 sizes to equip animals of different ages and weights. In the development studies (internal data), the jacket and the ECG electrodes remained correctly placed on the animals for 24 hours without damage even when the animals were housed at 3 per cage.
Respiratory cycles and ECG signals are of good quality, allowing proper delineation of cycles and intervals.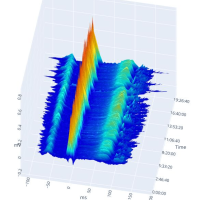 Figure: ECG pattern on 60 cycles over 20h – Guinea-Pig
DECRO Solution for adult Minipig:
In 2020, studies carried out in partnership with the DART department of Charles River Laboratories, in Lyon, had already demonstrated the ability of the DECRO solution to study cardiorespiratory parameters using the connected jacket solution on juvenile minipigs, from the first week of life, on animals housed with their mother (Laure PENARD et al. 2020).
Recently, a totally innovative jacket has been developed for adult minipigs; it has been designed to facilitate the handling of animals by experimenters/zootechnicians and the acceptability of animals. The developed jackets have been tested on two strains of minipigs, Yucatan and Göttingen, on animals of varying weight (15 to 25kg), over periods of several hours to several days.
One person can easily equip a minipig alone and start a study in few minutes.
Signals side, good resolution of the respiratory and cardiac cycles, allowing to evaluate the pharmacological and/or toxicological effects of developing compounds.
These developments allow Etisense to propose new offers. DECRO is now available for sale, with unique hardware and software whatever the species.
You can easily switch between species by changing only the jacket and selecting the species studied in the software.
References
Clavier L, Maffre V, Cambier A, Diop L. Evaluation of respiratory depression induced by fentanyl in rats using the Decro jacketed telemetry. In: Safety pharmacology society congress. Bruxelles (Online); 2021.
Fares R, Flénet T, Vial J, Ravaz M, Roger V, Bory C, et al. Non invasive jacketed telemetry in socially-housed rats for a combined assessment of respiratory system, electrocardiogram and activity using the DECRO system. Journal of Pharmacological and Toxicological Methods [Internet]. 2022 Jun [cited 2022 Jul 27];107195. Available from: https://linkinghub.elsevier.com/retrieve/pii/S1056871922000429
Flénet T, Chastel E, Eynard C, Momtaz A, Boixel C, Barret H. Assement of cardiorespiratory function using telemetric jacket in rodents. In: Safety pharmacology society congress. Barcelona, Spain; 2019.
Laure PENARD, Corinne SIMON, Charles EYNARD, Timothé FLENET, Christophe BORY, Edward MARSDEN, et al. Assessment of the Feasibility of Cardiorespiratory Monitoring in the Juvenile Minipig Using a Noninvasive Jacketed Telemetry System. In Wiley; 2020.
Scorrano F, Stuber N, Dreessen K, Cordier V. Evaluation of a new telemetry jacket system for rats. In: FELASA congress. Marseille, France; 2022.