ETISENSE and its cardiorespiratory biosensors contributes to a collaborative project combining physical activity rehabilitation and therapeutic education using electric assist bike.
VELIS (stands for Smart Electric Bike for Healthcare in French) – A project imaginated by researchers from the TIMC lab (UMR5525 – CNRS, University of Grenoble-Alpes, VetAgro sup', Grenoble INP) and 3 startups from the Grenoble ecosystem will strengthen with the recruitment of dedicated resources.
The project combines an electric assisted/resisting bicycle (eBikeLabs) with cardiac and respiratory physiological parameters (Etisense), as well as the analysis of the patient's movement (MySmartMove) during a physical activity rehabilitation program implemented following cancer treatment or surgery, for example.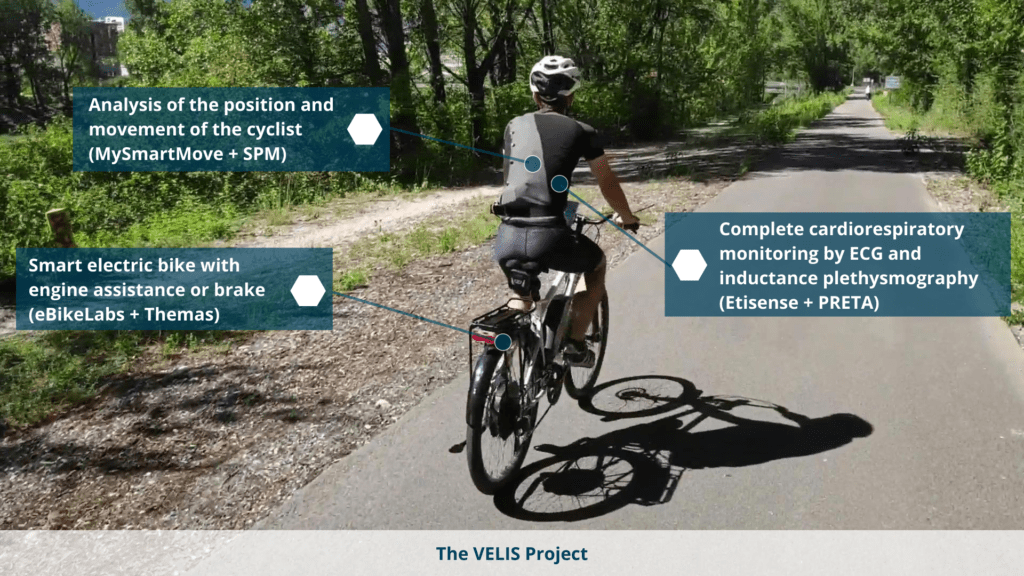 Data are recorded directly on patients during exercises which can be performed in natural environment in comparison to usual clinical environment.This should help clinicians to get access to a whole range of real-life data and advise individualized rehabilitation programs for their patients. In the meantime, patients discover and experience how to practice exercise by themselves.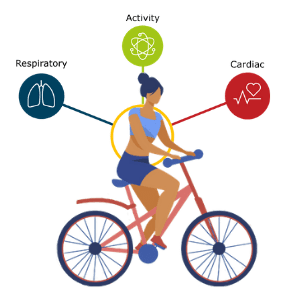 What are the challenges for ETISENSE?
Design a connected jacket adapted to both, men and women, able to record respiratory and cardiac ambulatory parameters.
Using the 
biosensors already developed and commercialized in preclinical research
, we validate the possibility to record on an exercising patient, an external ECG used to calculate Heart rate as well as Resp. rate and Minute volumes from Respiratory Inductance Plethysmography (RIP) bands.
These are parameters often monitored in patients, but rarely monitored during exercise in natural outdoor environment and generally in ambulatory situation. This is one of the potential evolutions of Etisense's solution.
Validate our physiological algorithm's in Human Health in various conditions
Prototypes gave very good first results during the initial project.
What was globally achieved in the initial part of VELIS program?
The first patients who had a breast cancer treatment were able to follow a rehab' protocol with the assisted bikes and their feed-back was excellent. The 3 startups developed a combination of their solutions into a prototype. A few prototypes have been produced and tested in real conditions. These trials provided a first dataset.  
What is planned now?
A clinical study is approved to move ahead in that program, enlarging with the physiological monitoring and with the movement quality analysis. This will allow clinicians to get more data and adapt advices. The ultimate goals being for that program: to propose rehab' activity programs and tools to minimize risk of cancer relapse, or help patients with other pathologies (fibromyalgia, cardiac insufficiency or patient suffering from obesity) to improve their health.
VELIS program needs resources to integrate the different solutions, acquire and analyze data. The aim is to develop innovative exercise indexes using the data collected by the different sensors that are robust, easy to understand for patients and healthcare professionals.
You want to discuss this collaboration or others in Human Health with ETISENSE technology?
Feel free to contact us!