The External Telemetry Hardware
The Bluetooth Emitter and the Acquisition Unit: the intelligence of DECRO®
The emitter contains the electronic used to collect the 3 biosignals, and the latest generation of Bluetooth low energy radio module to transfer data. It is powered from a removable and rechargeable battery pack. We have made all efforts to miniaturize the electronic and to minimize the weight supported by the animal without making trade-off on signal's quality and autonomy.
The acquisition unit contains our proprietary software and receives the biosignals send by the emitter thanks to the Bluetooth. Our Bluetooth has been designed to comply with industrial ElecroMagnetic Compatibility (EMC) requirements and provides robust data transmission. It is a complete plug-and-play experience, without harassing setup or license management on every user's computer. 
"The Bluetooth communication protocol embedded in our solution has been extensively tested in multiple situations and has demonstrated its reliability."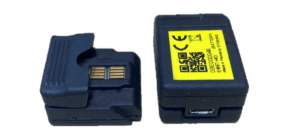 Embeds 3 physiological sensors
The emitter embeds a high-resolution ECG (24 bits, 500Hz), a high-resolution respiratory inductive plethysmography (32 bits, 200Hz), and a 3D accelerometer (16 bits).
Optimized weight (15g) and ergonomics
The emitters, with its battery, only weighs 15g and the ergonomics is optimized to allow the animals to express their normal behaviour.
USB rechargeable batteries
The emitter is provided with two USB rechargeable and replaceable batteries. They are reusable without repackaging.
Acquisition Unit main features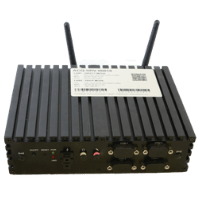 Plug & Play solution
The acquisition unit is very simple and rapid to setup. There is no need to install anything on your computer since everything stands in our hardware. 
Robust hardware and small footprint
Designed to resist to harsh environment and operate on 24/7. The acquisition unit has a low energy consumption and a fanless design to make it dust proof and noiseless.
Link multiple acquisition units
Depending on the number of animals you are recording simultaneously, you may need one or more additional acquisition units. They are totally linkable to work together in a unified way, exactly as a single hardware. Check our catalog to know more.
You want more information about the DECRO® external telemetry hardware?