Did you know that with DECRO®, the first connected jacket that monitors cardiorespiratory parameters without surgery or constraints in rats, a broad range of applications is possible?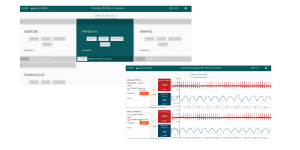 With the solution, you can easily and rapidly:
Monitor physiological parameters (cardiac and respiratory rate) of your animals during a surgery or during the post-op period. The solution can be used on anesthetized animals.
Equip rats and make them exercise on treadmill. You'll be able to get information during effort or during recovery.
Study the safety and pharmacological effect of drug candidates on cardiorespiratory function. The solution has been tested with reference compounds with success.
Follow cardiorespiratory parameters in rats exposed to hypoxia, or myocadiac ischemia for example, without implanting.
Study the cardiorespiratory and behavior (activity) evolution of animals submitted to environmental changes and/or sources of stress.
What would be yours? 
We would love to hear about your specific case!