Dans la période actuelle, où la crise sanitaire a remis en question les congrès et autres salons professionnels, difficile de se faire connaitre et de lancer un nouveau produit.

Chez Etisense, nous avons donc développé un webinaire en français pour officialiser la disponibilité de la solution DECRO, notre 1er gilet connecté permettant le suivi simultané des fonctions cardiaques et respiratoires et de l'activité de rats libres de leurs mouvements, auprès des chercheurs français.
Ce webinaire s'est déroulé jeudi 18 juin 2020. Il a été animé par Corinne SIMON, Directrice Générale d'ETISENSE et Raafat FARES, PhD, Ingénieur d'Application.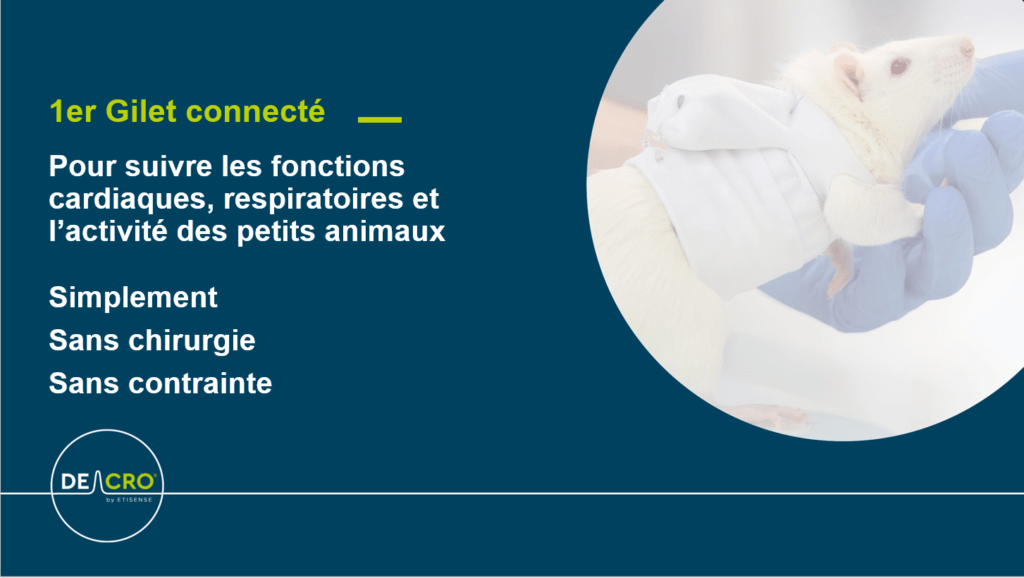 This 1st webinar aiming at launching DECRO solution has been organized in French. If you are interested by a prespentation in English, let us know by sending an email to corinne.simon@etisense.com or via the
contact form on our website
Découvrez le replay du webinaire présentant un gilet connecté pour des mesures des fonctions cardiorespiratoires dans la cage d'hébergement.
Avec au programme une présentation du matériel, des exemples de cas d'usage et des résultats physiologiques, ainsi que des exemples d'applications.


Côté pratique, ce webinaire ne dépasse pas 45 minutes, en intégrant 15 minutes de questions- réponses au cours desquelles nous avons eu le plaisir de répondre à diverses questions dont certaines reviennent très souvent telles que :
– La nécessité d'habituer les animaux au gilet
– Le temps que l'animal peut porter le gilet en continu ?
– Les paramètres disponibles et à venir ?
– L'adaptation à d'autres espèces
Pour découvrir les réponses à ces questions, n'hésitez pas à visionner le replay.
Pour toute question, demande de démonstration ou de devis, merci de nous envoyer un message via la page contact du site internet ou directement par mail à corinne.simon@etisense.com.